¿Que es una UMA?
In addition to this post and for greater clarity of this term, we invite you to visit our first publication in this regard, thanking you for your valuable time and interest in our publications.
A reference translation of the official definition is,
The Unit of Measurement and Update (UMA) is the economic reference in pesos to determine the amount of the payment of obligations and assumptions provided for in federal laws, of the states , as well as in the legal provisions that emanate from all the previous ones.
In summary, credits, fines, or other obligations will be expressed in UMAs, replacing 'minimum wages' as said unit.
Record
One of the most important advantages of unlinking these concepts is that with this change it is possible to increase the minimum wage without increasing the responsibilities of salaried workers.
Below we show a graph of the evolution since its establishment in 2016,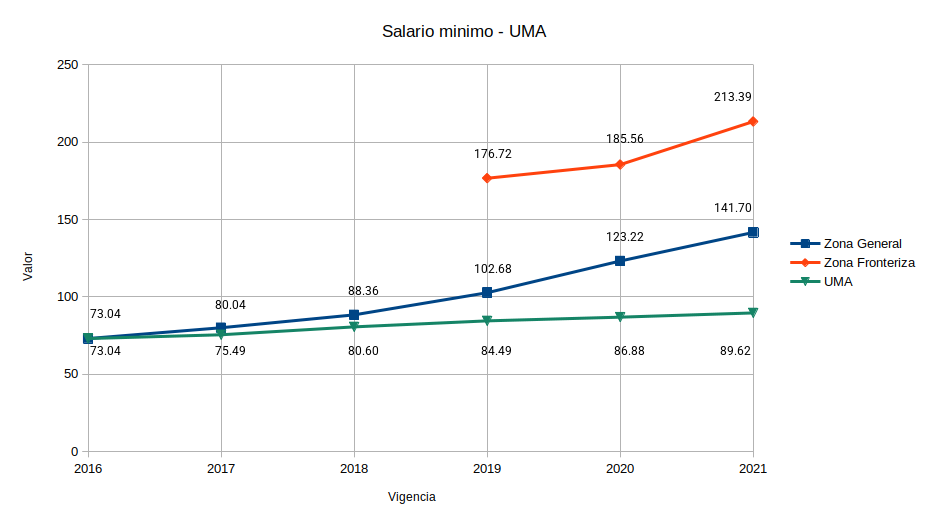 Increase
The National Institute of Statistics and Geography (INEGI) announced the update of the value of the Unit of Measurement and Update (UMA) for 2021, whose value in pesos will be,
| | | |
| --- | --- | --- |
| UMA | Monthly | Yearly |
| $89.62 | $2,724.45 | $32,693.40 |
that is, it increased 3.15% compared to the previous year.
FOVISSSTE
How does the update of UMAs affect the beneficiaries of FOVISSSTE?
As of 2017, the credits granted in said unit of measurement were updated according to the increase that is less between the increase in the minimum wage and the Unit of Measurement and Update (UMA), each they are modified.
This year, the update went into effect February 1st..
With the increase in the value of the UMA, the average Total Annual Cost (CAT) of FOVISSSTE loans is 9.6%, that is, it remains below the average CAT of mortgage loans offered by commercial banks, which It is 11.5% according to what is published on the Condusef portal.
Therefore, if you have any economic commitment quantified in UMAs, we remind you of the increase and that it may be useful to plan your accounts, expenses and payments, so that this 2021, it is as solvent as possible for you.
If you require it, at the Despacho Contable de Xalapa we will be able to advise and support you to include the amount of the real interest on your mortgage loan, in the calculation of the annual declaration to be made next April. We remain at your service!